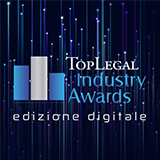 18 giugno 2020 / NEWS
TopLegal Industry Awards 2020
Il nostro Studio è stato premiato come STUDIO DELL'ANNO nella categoria WEALTH MANAGEMENT durante la premiazione della quinta edizione dei TopLegal Industry Awards 2020 che si è tenuta in edizione digitale, con la seguente motivazione della giuria:
"La capacità di affrontare mandati ad elevata complessità patrimoniale e familiare ha colpito la giuria. Apprezzati in particolare gli strumenti tecnici messi in campo per la gestione del passaggio generazionale."
Siamo molto orgogliosi di questo premio che, ancora una volta, rappresenta il riconoscimento del livello di eccellenza della nostra practice dedicata alle problematiche del passaggio generazionale, pianificazione patrimoniale e asset protection.
industryawards.toplegal.it
toplegal.it
---
18 June 2020/ NEWS
TopLegal Industry Awards 2020
Our Firm was awarded as FIRM OF THE YEAR in the WEALTH MANAGEMENT category during the award ceremony of the fifth edition of the TopLegal Industry Awards 2020 held in digital edition, with the following motivation of the jury:
"The jury was impressed by the ability to handle complex family and asset issues. Particularly appreciated the technical instruments put in place for the management of the generational transfer".
We are very proud of this award which, once again, represents the recognition of the level of excellence of our practice dedicated to the issues of generational transfer, asset protection and wealth planning.