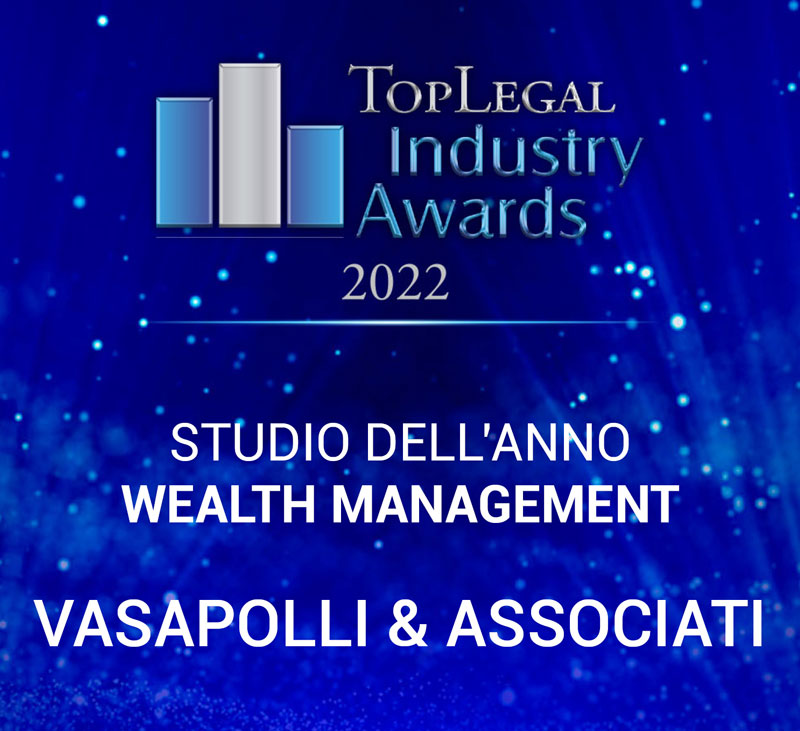 12 maggio 2022 / NEWS
TopLegal Industry Awards 2022
Siamo orgogliosi di annunciare che il nostro Studio è stato premiato, in occasione della serata di premiazione dei prestigiosi TopLegal Industry Awards 2022, quale "Studio dell'anno Wealth Management".
È stato un anno di incredibili riconoscimenti e vogliamo ringraziare innanzitutto TopLegal e tutti i membri della giuria per questo importante riconoscimento di cui siamo estremamente onorati.
Vogliamo inoltre ringraziare i nostri clienti, che hanno manifestato il loro apprezzamento per il nostro lavoro, gli enti e gli operatori finanziari, i Colleghi e gli Studi legali che ci chiamano in affiancamento per assistere i loro clienti nelle problematiche di pianificazione e protezione patrimoniale e di passaggio generazionale e infine il team di Professionisti dello Studio che si occupano quotidianamente con impegno e passione di tali tematiche.
L'elenco completo dei vincitori è disponibile a questo link:
industryawards.toplegal.it/
---
12 May 2022 / NEWS
TopLegal Industry Awards 2022
We are proud to announce that our firm has been honoured as 'Wealth Management Firm of the Year' at the awards evening of the prestigious TopLegal Industry Awards 2022.
It has been a year of incredible achievements and we would first of all like to thank TopLegal and all the members of the jury for this important recognition of which we are extremely honoured.
We would also like to thank our clients, who have expressed their appreciation for our work, the institutions and financial operators, the Colleagues and Law Firms who call on us to assist their clients in wealth planning and protection and generational transfer issues, and finally the Firm's team of Professionals who deal with these issues on a daily basis with commitment and passion.
The full list of winners is available at this link:
industryawards.toplegal.it/