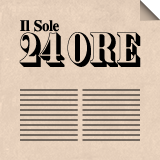 23 maggio 2022 / ARTICOLO
Andrea Vasapolli parla di wealth planning
al Festival dell'Economia di Trento
Gestire al meglio il passaggio generazionale dell'impresa, evitare che in sede successoria il patrimonio familiare si frantumi perdendo di rilevanza, prevenire liti fra gli eredi, sono solo alcune delle problematiche che possono essere affrontate pianificando per tempo la struttura patrimoniale delle famiglie e il passaggio successorio.
Il 3 giugno nell'ambito del Festival Economia Trento ne parlerà il nostro partner Andrea Vasapolli intervistato da Mauro Mazza, capo redattore de Il Sole 24 Ore.
In materia di wealth planning il Gruppo 24 Ore sta per presentare un libro e una rivista, dei quali il nostro partner è curatore e direttore scientifico.
PDF Festival dell'Economia di Trento
---
23 May 2022 / ARTICLE
Andrea Vasapolli talks about wealth planning
at the Trento Festival of Economics
Managing the generational transfer of a business in the best possible way, preventing family assets from being fragmented and losing relevance in the succession, preventing disputes between heirs: these are just some of the issues that can be tackled by planning in good time the wealth structure of families and the succession transfer.
Our partner Andrea Vasapolli, interviewed by Mauro Mazza, editor-in-chief of Il Sole 24 Ore, will discuss this topic on 3 June during the Festival Economia Trento.
On the subject of wealth planning, the 24 Ore Group is about to present a book and a magazine, of which our partner is editor and scientific director.