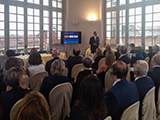 14 giugno 2019 / NEWS
IW Bank, 14 giugno 2019
Protezione e trasmissione del patrimonio
Andrea Vasapolli TEP è intervenuto nella serata a inviti organizzata da IWBank (Gruppo UBI Banca), nella splendida cornice della Reggia Reale di Venaria, in tema di "Protezione e trasmissione dei patrimoni". "Un valore particolare deve essere attribuito al mantenimento unitario dei patrimoni, che possono così mantenere inalterata la loro importanza in un'ottica pluri-generazionale", ha argomentato. "Per farlo è necessario strutturare adeguatamente il patrimonio al fine di risolvere i problemi del suo frazionamento che consegue alla successione necessaria".
---
14 june 2019 / NEWS
IW Bank, 14 June 2019
Protection and transmission of personal wealthy
Andrea Vasapolli TEP took part as a speaker in the evening on invitation organized by IWBank (UBI Banca Group), in the beautiful setting of the Royal Palace of Venaria, on the theme of "Protection and transmission of personal wealthy". "A particular value must be attributed to the unitary maintenance of personal wealthy, which can thus maintain its importance unaltered in a multi-generational perspective", he argued. "To do so, it is necessary to adequately structure the patrimony in order to solve the problems of its fractionation which follows the necessary succession".