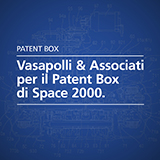 9 settembre 2019 / NEWS
Vasapolli & Associati
per il Patent Box di Space 2000
Space 2000, società leader nel settore dell'abbigliamento, assistita dello studio Vasapolli & Associati, ha sottoscritto con l'Agenzia delle Entrate l'accordo preventivo avente ad oggetto la definizione in contraddittorio dei metodi e dei criteri di determinazione del reddito agevolabile ai fini della normativa Patent Box.
Per lo studio Vasapolli & Associati ha operato un team composto dal name partner Andrea Vasapolli e dalla partner Annamaria Alliaudi.
L'assistenza dello studio ha riguardato tutte le fasi della procedura, a partire dalla presentazione dell'istanza di ruling per l'accesso all'agevolazione fiscale fino alla fase di contraddittorio con l'Agenzia delle Entrate, conclusasi con la sottoscrizione dell'accordo.
www.toplegal.it
www.lefonti.it
www.legalcommunity.it
www.globallegalchronicle.com
www.ilsole24ore.it
---
9 September 2019 / NEWS
Vasapolli & Associati
with Space 2000 for the Patent Box
Space 2000, a leading company in the clothing sector, assisted by Vasapolli & Associati, has signed a preliminary agreement with the Italian Tax Authority (Agenzia delle Entrate) concerning the definition of the methods and criteria for determining eligible income for the purposes of the Patent box regulations.
The team was composed of the name partner Andrea Vasapolli and the partner Annamaria Alliaudi.
The Firm's work covered all the phases of the procedure, starting with the submission of the advance ruling to obtain the tax benefit and ending with the phase of discussion with the Italian Tax Authority, which was successfully concluded with the signing of the agreement.
www.toplegal.it
www.lefonti.it
www.legalcommunity.it
www.globallegalchronicle.com
www.ilsole24ore.it