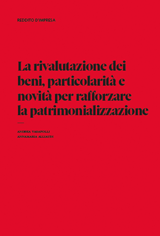 1 dicembre 2020 / ARTICOLO
La rivalutazione dei beni, particolarità e novità
per rafforzare la patrimonializzazione
Rivalutazione dei beni e delle partecipazioni, bilancio, imposta sostitutiva, contabilizzazione, tecniche di rivalutazione, riserva di rivalutazione.
Contributo di Andrea Vasapolli e Annamaria Alliaudi.
PDF Norme & Tributi Mese (Il Sole 24 Ore), n. 12, dicembre 2020
---
1 December 2020 / ARTICLE
The revaluation of assets, peculiarities and novelties
to strengthen capitalization
Revaluation of assets and participations, financial statements, substitute tax, accounting, revaluation techniques, revaluation reserve.
Contribution by Andrea Vasapolli and Annamaria Alliaudi.
PDF Norme & Tributi Mese (Il Sole 24 Ore), n. 12, dicembre 2020